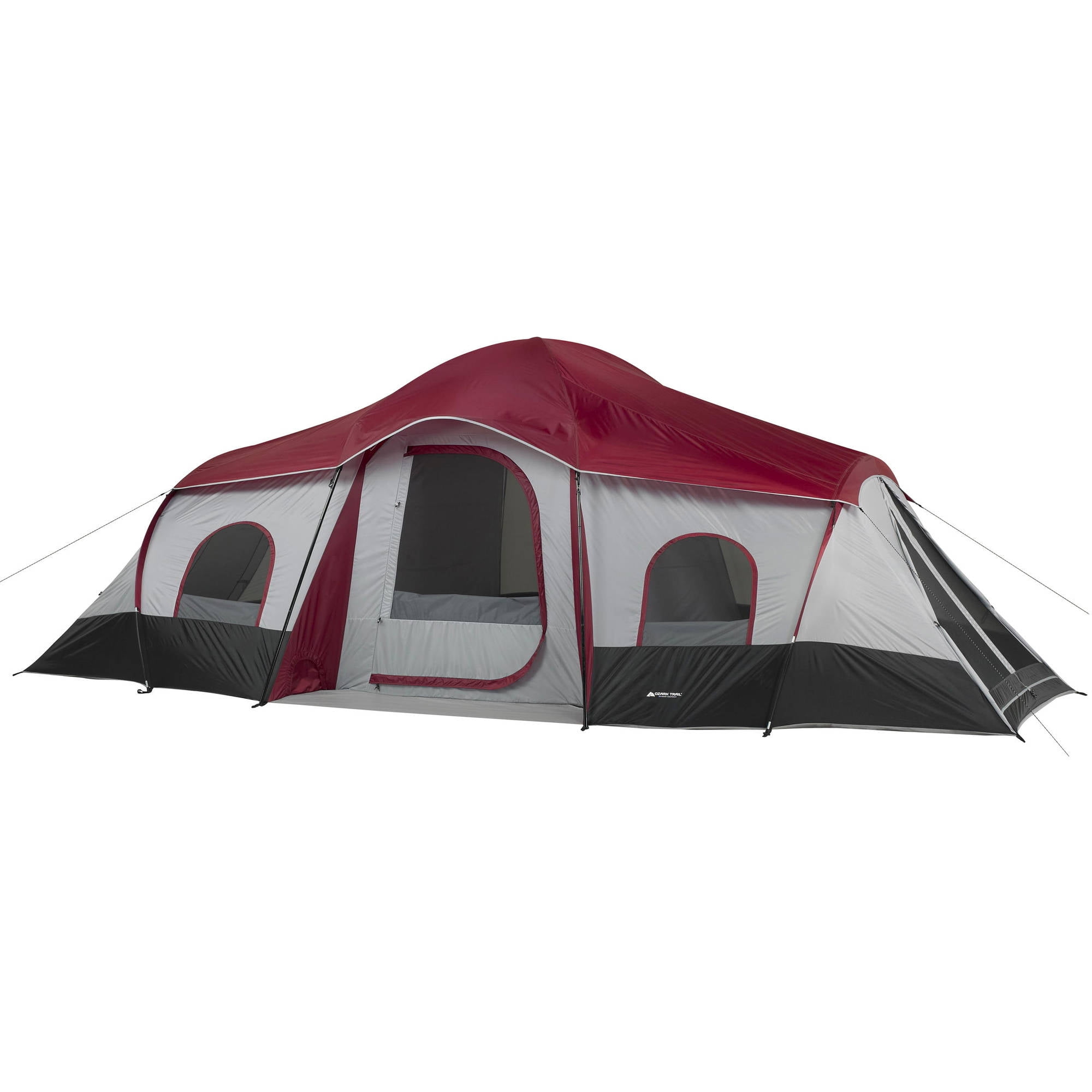 Ozark Trail 10-Person 3-Room Cabin Tent
Manufacturer: Campex (BD) Limited
Model #: 0089745400185
$109
In stock at Walmart.com on 4-26-2018.
BUY NOW
Item Description
Ozark Trail 10-Person 3-Room Cabin Tent:
Sleeps 10
Fits 3 queen air mattresses or 10 sleeping bags
Dimensions: 20' x 10'
Floor Area: 177.5 sqft
Center Height: 78
2 removable room dividers create 3 rooms
1 center door and 2 side doors offer separate entrances for added privacy
6 windows and 2 side doors for increased ventilation and panoramic views
Taped fly seams prevent leakage
Includes E-port, mud mat and shoe pocket
1 Media Pocket
4 Organizational Pockets for small items
Comes with a zippered carry bag
Carry bag dimensions: 27.5 inch x 11 inch x 11
1 year limited warranty
Model# WMT922.4

California Proposition 65 Warning:
WARNING: This product contains one or more chemicals known to the State of California to cause cancer, birth defects and other reproductive harm.
Buyer Reviews
I recently went camping with my family in St Andrews Park. It was the first family trip in years, and we have never been camping. I didn't know what to expect most people had big campers, but we where happy with our tent.The first night it was unbearably cold even with a medium sized space heater. The winds were howling and the temperature dropped to about 40 degrees.The next day my husband got a tarp (24 x 12 ft) to over the top of the tent... thanks Walmart for being every where!!! I also pinned some emergency blankets to the top of the tent to keep the draft out. With the emergency blankets, extra tarp, and space heater the next night we slept well.The tent held my 6'4 inch husband comfortably, me, 3 yr old toddler, two teenagers, and all of our stuff. This is a great tent!!! I think we have started a family tradition. My sisters are planning to go with us next year and I encourage them to buy this tent. It is everything they say it is.
Product Features
1 center door and 2 side doors
Sleeps 10
Measures 20' x 10'
---