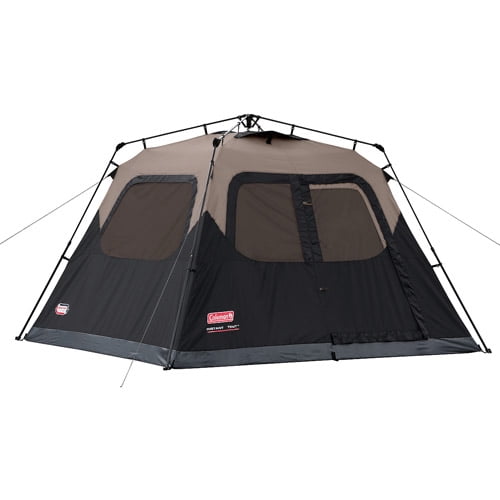 Coleman 6-person Instant Cabin Tent
Manufacturer: COLEMAN
Model #: 0007650107354
$191.46
In stock at Walmart.com on 4-24-2018.
BUY NOW
Item Description
Coleman 6-person Instant Cabin Tent:
Cabin tent
Material: 150D
Coleman Instant Tent Capacity: Sleeps six persons
Sets up in less than 60 seconds
No assembly required
Poles are pre-attached to tent
Fully tapped tent seam
Heavy duty fabric
Two times thicker than standard tent fabric
Inner Tent: Polyester taffeta 150D, Polyester mesh 68D
Floor: Polyethylene 1000D
Specifications:
Center height: 72''
Overall dimensions: 120'' H x 108'' W
Buyer Reviews
I purchased this tent after reading many reviews. I already own a six person tent, but needed a tent that did not require two adults to setup, as I often camp with my young daughter. I cannot find enough good things to say about this tent!! Setup was ridiculously easy!! I don't know if I would try to fit six people inside, although I think it would be great for four. It definitely retains heat. But then again, I was camping in the Florida Keys in the middle of May. The poles are already set up, so that's one less thing to worry about. This tent is SOOOO worth the money. Now, I didn't experience any inclement weather during my camping trip, so I don't know how it handles in those cases. But so far, so good.I'm actually looking into buying the 8 person tent, as it has two rooms!!
Product Features
Poles are pre-attached to tent
71 inch center height
Spacious interior
---