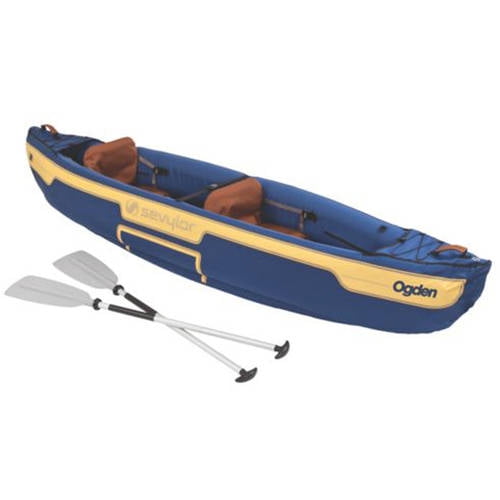 Coleman Ogden 2-Person Canoe Combo
Manufacturer: COLEMAN
Model #: 0007650111641
$248.69
In stock at Walmart.com on 4-24-2018.
BUY NOW
Item Description
Coleman Ogden 2-Person Canoe Combo:
Heavy-duty PVC construction is rugged for lake use
Polyester cover provides durable protection from punctures
Multiple air chambers allow another chamber to stay inflated if 1 is punctured
Airtight System is guaranteed not to leak
Boston Valve is double threaded for easy inflation/deflation
Secure storage areas let you safely store items with bungees
D-Rings are an easy way to attach other equipment
Adjustable, elevated seats move to fit you and let you sit higher for easier paddling
Carry handles make it easy to carry in and out of the water
Fits 2 people
NMMA certified to hold up to 355 lbs
Inflated dimensions: 10' 3 inch x 2' 9
1-year limited warranty
Includes pump, 2 paddles, carry bag and pressure gauge
Buyer Reviews
I purchased this canoe for my husband as a Christmas gift and to my dismay it was an inflatable canoe. I never knew inflatable canoe's existed. Not only was the canoe inflatable but the recommended weight limit was 355lbs for two people. Both of us combined did not exceed this weight limit, but I don't know about you, I don't even want to come close to the weight limit while on water. The picture was very deceptive and I don't recall there being a description of the canoe alerting me that it was inflatable. The canoe was beautiful on site but needless to say, I returned the canoe which made me sad because my husband was so excited when he found out that he had a canoe for Christmas...
Product Features
Heavy-duty PVC construction is rugged for lake use
Polyester cover provides durable protection from punctures
---