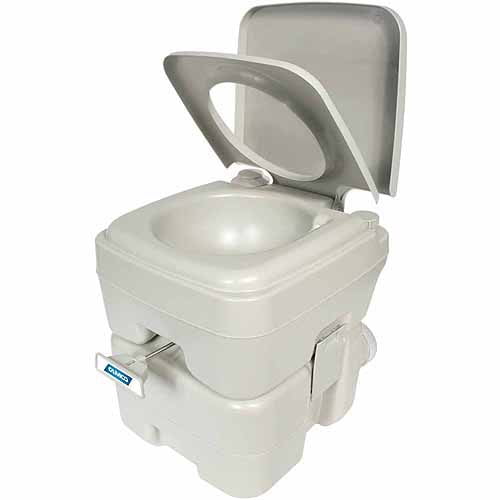 Camco Portable Toilet, 5.3 gal
Manufacturer: Camco
Model #: 0001471741541
$56.95
In stock at Walmart.com on 7-31-2018.
BUY NOW
Item Description
Camco Portable Toilet, 5.3 gal:
Designed for camping, Rving, boating or any other recreational activity
Its sturdy polyethylene construction is compact and lightweight
The 5.3 gal holding tank is detachable and includes a sealing slide valve to lock in odors and protect against leakage
Includes 2 side latches to secure the tank to the toilet and a carrying handle for easy transport
The portable toilet for boat employs an easy to use bellow-type flush and pull slide valve for easy flushing
The toilet measures 16.38H x 13.75W x 16.13D
It weighs 11.5 lbs empty
Included is a packet of Camco's TST biodegradable toilet chemical
Camco Portable Toilet, 5.3 gal, has a 1-year limited warranty
Model# 41541
Buyer Reviews
We go camping at least a couple times a year in a popup trailer and my wife and daughter have been nagging me for a portable toilet. When I bought the trailer used, a toilet came with it but it was disgusting just to look at and had all kinds of scum in mechanical crevasses. I got rid of it and just though these things had a high yuck factor. But the Camco toilet made our latest camping trip much more convenient. I am impressed by its ease of use. I am especially impressed with its very good design engineering to have it split into two parts that you can disassemble for cleaning. We have a septic system at home, so emptying the waste tank after a weekend camping outing is a breeze. It's nice and compact for fitting inside the popup, and as other reviewers noted, smell didn't seem to be a issue. This gadget has certainly made camping more comfortable.
Product Features
Designed for camping, Rving, boating or any other recreational activity
Sturdy polyethylene construction
---