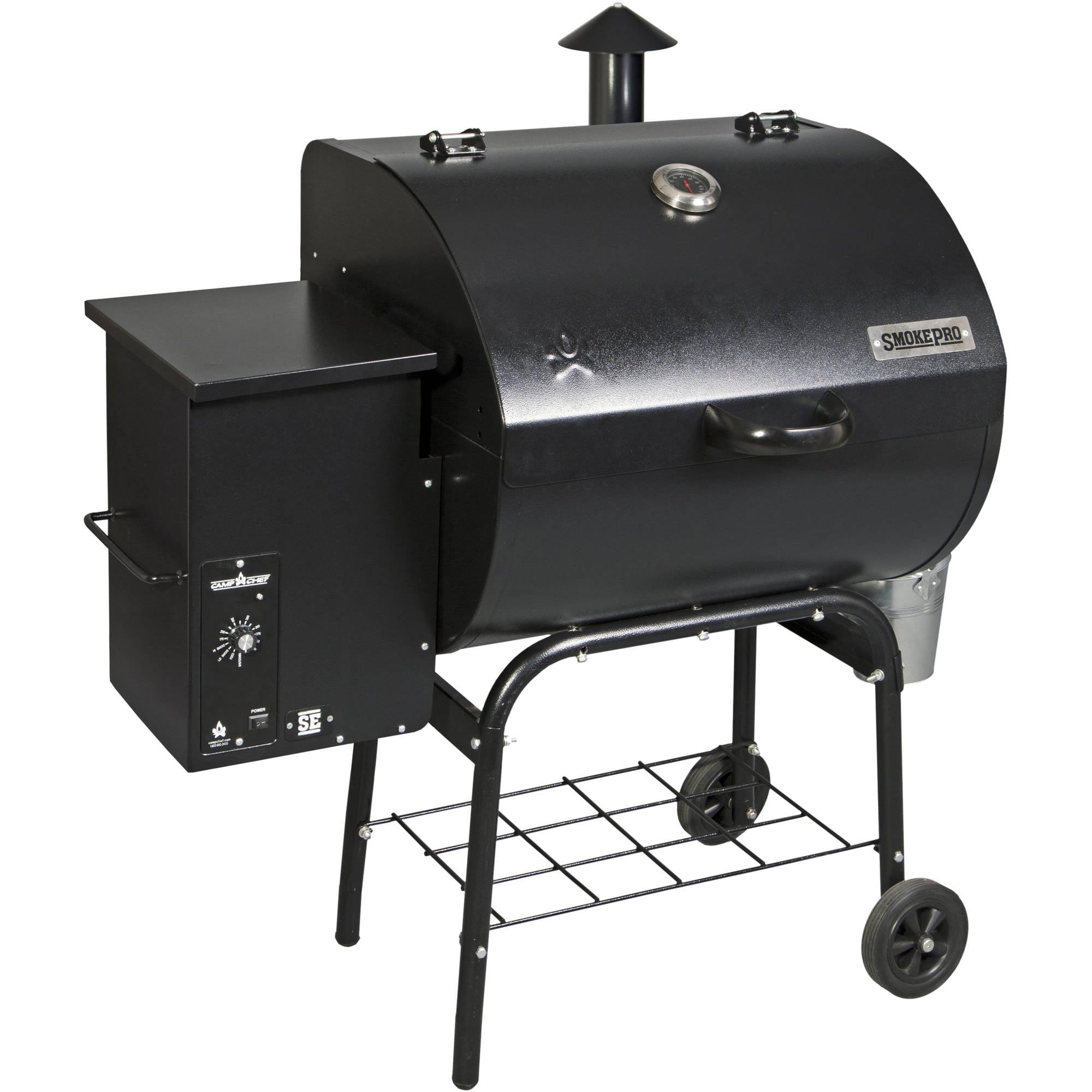 Camp Chef Smoke Pro SE Pellet Grill
Manufacturer: Camp Chef
Model #: 0003324621348
$344
In stock at Walmart.com on 7-15-2018.
BUY NOW
Item Description

Camp Chef Smoke Pro SE Pellet Grill:
Electronic auto-ignition
Built-in temperature gauge controls internal cooking temperature
Full cooking heat range, 160 degrees Fahrenheit up to 500 degrees Fahrenheit
Roller wheels for convenience
Patented Ash Cleanout System
Buyer Reviews
I asked for a Traeger for my Bday, but my mom-in-law got me the Smoke Pro by Camp Chef. I am so glad she bought me the \"wrong inch one. All my neighbors have the Traeger. This thing kicks their butts!! 1) it gets hotter. The highest setting is 400 and then there's a setting called \"high\". I've gotten up to 500. My buddies pellet grills will only get up to 350. Because it can go so hot, I've thrown away my grill and use the Smoke Pro from smoking AND grilling. 2)Traeger and Pit Boss have a dirty little secret. You have to use a Shop Vac to clean out the ash. Not my Smoke Pro, you pull a tab on the side and all the ash drops into a steel bucket that came with my grill. I've watched my neighbor clean his Pit Boss. What a mess! He has to take out the greasy racks, just to get to everything and then vacuum it out....seriously stupid!3) I love the smoke stack. You can adjust the smoke with a simple twist of the chimney top. 4) LOW and HIGH smoke. Why does everyone else only have \"smoke\"? I want multiple settings.Cons:Don't leave this out in the rain. My pellets got wet and turned the hopper into a concrete mess. I got it cleaned out and now use a patio cover when not in use.
Product Features
Electronic auto-ignition
Built-in temperature gauge controls internal cooking temperature
Roller wheels for convenience
---