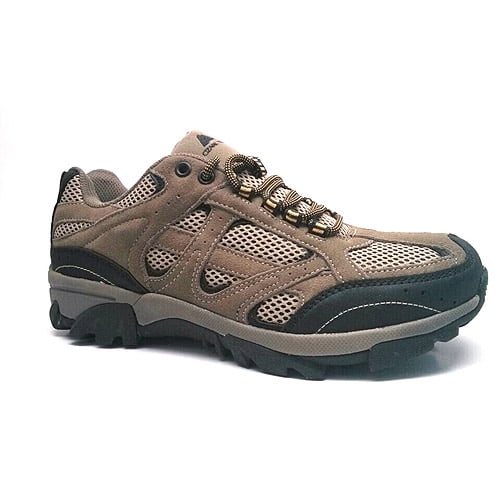 Ozark Trail Men's Low Profile Hiking Boot
Manufacturer: Ozark Trail
Model #: 0060538816580
$19.88
In stock at Walmart.com on 8-4-2018.
BUY NOW
Item Description

Ozark Trail Men's Low-Profile Hiking Boots:
Low-profile design
Lightweight hiking boots
Highly maneuverable
Primary color: taupe
Available sizes: 7.5, 8, 8.5, 9, 9.5, 10, 10.5, 11, 12 and 13
Suitable for wearing out to casual events or to go on a wilderness trek
Buyer Reviews
Bought a pair of these last minute before tackling a couple day hikes in NorCal, all I brought with me were trainers, (didn't expect to have time to do so much hiking) I wanted something with a little better grip and didn't want to damage my Nikes. Wow did these ever live up to the task. First week I had them I tackled 8 miles of rocky terrain including some snow on Lassen Peak / Bumpass area, hiked another 6-10 miles of forest in Redwood Ntn'l, took a six mile hike into Jedediah Smith, and tackled a few creek beds with more to come in the next few days. these shoes have been perfectly comfortable, secure, durable, and have excellent grip in any condition I've thrown at them. Testing them out I was able to stand on one foot on the side of a slick rock face at a very steep angle without slipping, remarkable. I would put these toe-to-toe (no pun) with any high end hiker, especially at this price. One thing to be aware of: The eyelets for the laces seem like they may end up being a weak point if you're overly abusive to them, my guess is just be fairly gentle when lacing them tightly and they should hold up fine. Cheers!
Product Features
Ozark Trail M Ot Shoes
---