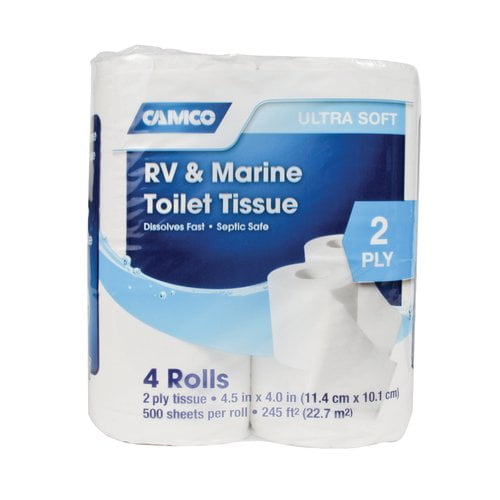 Camco Toilet Paper, RV & Marine Fast Dissolving, 4 Rolls
Manufacturer: Camco
Model #: 0001471740278
$4.67
In stock at Walmart.com on 6-3-2018.
BUY NOW
Item Description
Camco TST 2 Ply Toilet Tissue 4-pack, 500 sheets:
Fast-dissolving
Clog-resistant
Biodegradable and septic tank safe
Contains no dyes or perfumes
Buyer Reviews
No clogs, full-sized roll. Other brands are shrinking the length of the roll, but not Camco. I use this brand in my RV and decided to try it in my home since our old pipes are prone to clogs. Camco has recently changed to a new kind of smooth paper, instead of the flower imprint which I preferred. That flat, smooth paper isn't as effective in cleaning so that's why I didn't give 5 stars.
Product Features
Fast-dissolving
Clog-resistant
Biodegradable and septic tank safe
---