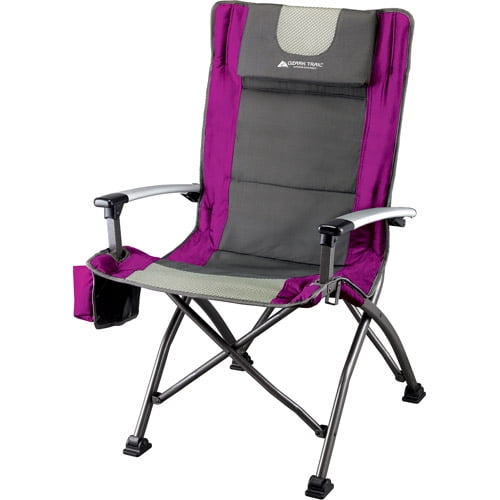 Ozark Trail Ultra High Back Folding Quad Camp Chair
Manufacturer: Generic
Model #: 0084409301579
$29.97
In stock at Walmart.com on 8-4-2018.
BUY NOW
Item Description
Ozark Trail Ultra Chair:
Durable steel frame
100 percent polyester seat
1-built in fabric cup holder
Weight capacity: up to 300 lbs
Quick and easy setup
Convenient for transport and storage
Perfect for sporting events and camping trips
Adjustable feet provide stability on uneven surfaces
Dimensions: 22.4 inch L x 22.4 inch W x 40.1 H
Chair Weight: 10.7 lb
Buyer Reviews
We just got 2 of these and they seem to be of great quality. We have not used them enough yet to rate durability but the construction is way better than most chairs we have had in the past and have looked at while shopping for new ones. The bar behind your legs doesn't hurt the back of your legs like others do. I have back and joint issues and this chair makes getting up out of it way easier because the arms are built to be able to help with that, more substantial than cloth arms with minimal bracing. The chairs are comfortable, you don't get the butt sag like most other chairs. The chair has a high enough back to allow my head to rest back, my husband is 5'10 and he is a bit too tall to rest his head as comfortably in the same position. Nevertheless they are very comfortable. The feet are built better also, they don't sink down into the sand or dirt like many others do. They have little pads on them to keep this from happening. So far we are impressed with these chairs, hopefully they will hold up for many years. I would buy them again!
Product Features
Durable steel frame
100 percent polyester seat
Perfect for sporting events and camping trips
---